Seasoned writer Roni Robbins' award-winning novel, "Hands of Gold: One Man's Quest to find the Silver Lining in Misfortune," offers a poignant must-read story.
By ROBYN SPIZMAN GERSON
October 13, 2022, 10:52 am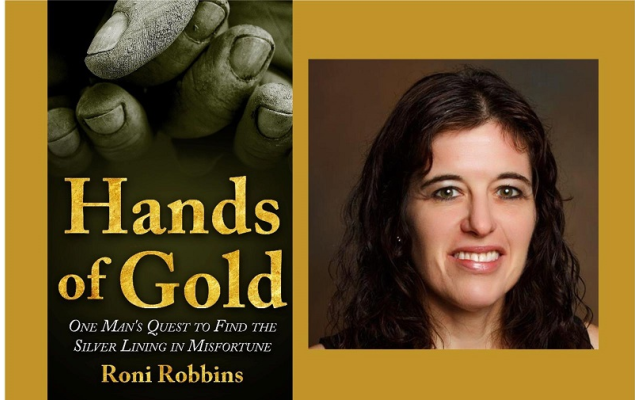 Robbins, a longtime journalist and editor, spent seven years writing the novel, delivering a gripping, dramatic story inspired by real-life events of her family.
As the book is loosely based on the life of Robbins' grandfather, the book's protagonist, Sam Fox, follows a path filled with challenges and difficulties. He walked a line between hardship, love, and loss, along with courage and strength. Metaphorically and in truth, her grandfather spent his whole life running against the hands of time. Fox's journey embraced Robbins' interest before writing the book…a legacy she inherited that just wouldn't let go.
In writing the book, Robbins utilizes articulate literary license to craft a believable story, giving us insight into humanity during a tumultuous and tragic time.
"Hands of Gold" follows her grandfather's journey from war-torn Europe at the turn of the 20th century, through the Great Depression and labor union reforms in America. Determined to forge a new life, Fox faces many hardships, including contracting tuberculosis, but he refuses to let this stop him from his ambitions.
An unlikely hero, he makes a daring move, shielding 200 coworkers from a gun-carrying, disgruntled employee. His bravery saved the lives of many. By coming to America, Fox ultimately escaped the Auschwitz concentration camp where his family tragically suffered a deadly fate.
The title of the book suggests the role of time, along with a carefully crafted story, and lives up to Robbins' page-turning mission. Neither the decades of war nor the trials of a hard life prevent Sam Fox from discovering the silver lining in each day. He holds onto his beliefs. He exudes resilience.
Fox is racing to set the record straight about secrets he and his wife of 65 years, Hannah, have harbored from each other and their children. Clearly, it's a love story that threads together unfortunate circumstances, illustrating the exceptional, unwavering strength of the human spirit.
"Hands of Gold" is a critical reminder, we, too, can move through the difficulties of life and thrive despite our challenges. Robbins reminds us how time is our greatest gift, along with the freedom and ability to savor it. For more information, visit www.ronirobbins.com.