Two Jewish community event organizers played matchmaker for their parents. It ended in wedded bliss.
Little did Howard Fagin know — when he was trying to honor his deceased wife several years ago — that he would be led to his future spouse. The love story mirrors the biblical narrative of Abraham and Sarah, which Rabbi Ron Segal of Temple Sinai referenced at Fagin's recent wedding.
Under the chuppah at the July 10 ceremony, Rabbi Segal alluded to the story of the iconic and aging Jewish patriarch Abraham, who was arranging for the burial of his wife Sarah when his children introduced him to the woman who would become his second wife.
"It's an interesting parallel," the 78-year-old Fagin told the AJT recently.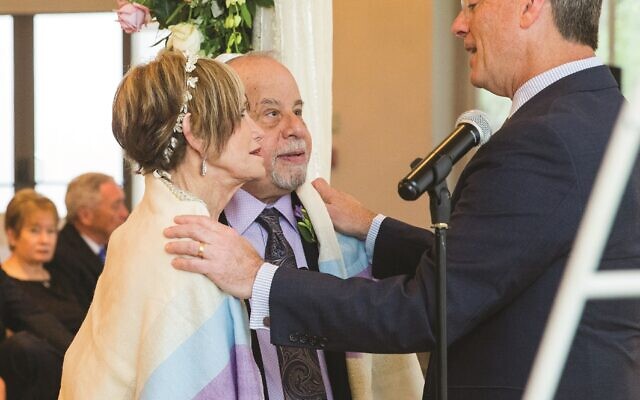 Several years ago, Fagin decided to name a program of the Book Festival of the MJCCA for his first wife, Sharon, who died in 2017. The couple were longtime supporters of the festival, and Sharon was a teacher. Arts & Authors Director Pam Morton met with Fagin to help create the Sharon V. Fagin Joy of Reading Program, but — unbeknownst to him — a more personal storybook ending was already in the works. Morton asked Fagin's daughter, Shelly Danz, who had accompanied Fagin to the meeting, if he was dating again.
Morton's 81-year-old mother Sheila had been widowed for 20 years following the death of her second husband, and Morton saw Fagin as a perfect match. "I loved his demeanor and personality," she said. Plus, she knew Danz, another Jewish event organizer and a former MJCCA employee. The two had worked together on special events of the JCC Maccabi Games held in Atlanta. "They were lovely people, the nicest people," Morton said of the family.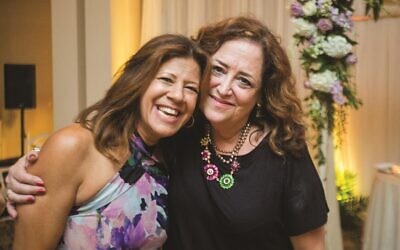 Several months after Morton met Fagin, he told his daughter he was ready to date. That's when Morton sent photos and compiled a one-page bio about her mother, which elicited Fagin's interest.
"She sounded exciting," he said. "I wanted to go out with people who were interesting. … Sheila had an interesting background."
Fagin, a former financial advisor, also praised his wife's artistic and design capabilities. "We had so much in common. We had the same political philosophy. We were very comfortable [together]." Sheila said of her now-husband, "he was so ethical and kind. He didn't come on as someone who would steer me around the building … I had two very controlling husbands." She said Fagin was the ideal mix of type A and type B personalities. "He never got out of sorts. He loves my talents."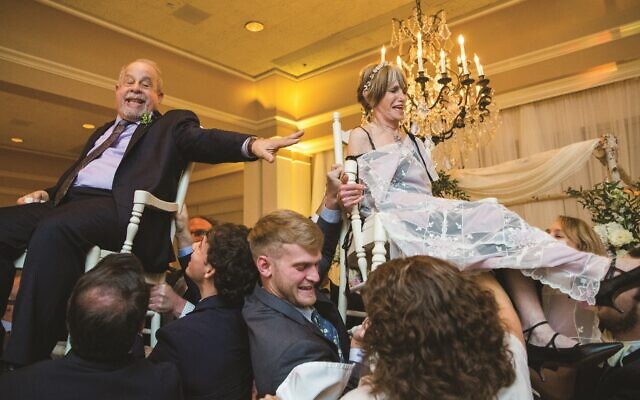 After two years of dating, the couple moved in together during the pandemic and decided to get married. Asked why they would consider the move so late in life, Fagin said he believed in the Torah directive to "choose life."
He shared three other reasons to take the next step: He wanted to set an example for their children and grandchildren that marriage is the proper path for a committed relationship. "I wanted to make sure we had someone to take care of each other if either got sick and you can do that easier if you're married. We loved each other and thought it was the right thing to do."
Neither of them expected to find love again. "I had no idea when my wife passed away that I would fall in love or every get married again," Fagin said. He and Sheila both mentioned how happy their families are that they found a compatible partner in the late stage of their lives, and how the wedding sparked joy during a difficult pandemic period.
The couple, who have five children and seven grandchildren between them, marked their union at The Standard Club with 58 of their closest friends and family for music, dancing and celebration. "Sheila and I are very lucky to have found each other," Fagin said. "I have a new life, a new bride and a new house. It's just new and special. Every day is exciting for both of us."
By Roni Robbins, award-winning journalist, and author of Hands of Gold, an Amazon Breakthrough Novel Award quarter finalist set for Feb 4, 2022 release by Amsterdam Publishers.
Here are links to Roni's more recent articles:
Medscape: CLICK HERE
Atlanta Jewish Times: CLICK HERE
Times of Israel blogs: CLICK HERE